Custom Thundersticks
Take Personalized Thunder Sticks To Your Next Sporting Event!
Are you considering getting noise makers for a local sporting event? These thundersicks are a great option to promote your business and there are a lot of choices out there. Here are some great options you have when choosing thunder sticks.
The first option is the original inflatable thunder sticks. Much like a balloon but much more durable, these tubes of air come in pairs and are hit together to create noise. They can be customized according to what you're in need of, including text and logos, which can be included either on one side or both sides of the stick. With 12 colors of tubes and 17 colors for the text and/or logos, you're sure to find something that matches the home team colors.
Looking for personalized thundersticks? In addition to the original tube-shaped noise makers, there are also specialty shaped sound makers as well. For hockey games, there's the hockey-stick shaped noise maker. Football fans can find tube noisemakers with footballs on the end while baseball fans can enjoy bat shaped thunderstix.
If the mascot is an animal, such as a tiger, cougar, or wildcat, paw thunderstix can be found that will really get the fans going. Other mascot related thunder sticks include swords, bones and tomahawks, so it's possible to find inflatable noise makers that go with the mascot.
For fun custom thundersticks, check out the flags. These not only do a great job at making some noise, but they can also be waved around by excited fans. These can include an imprint on the flag as well as on the post of the flag and work great if you're thinking about printing the mascot logo.
Another great shape that works well at games is the wiggle thunderstix. These custom thunder sticks come in white with many color options for the imprint. With a nice white background, any logo can look great and fans can have fun hitting them to make noise during the game.
All of these thundersticks are made out of durable material, so they may just last the whole season. They're a great way to promote your business and for fans to have fun and cheer on their favorite team.
Custom Thunder Sticks For Football Games
Inflatable Thunder Sticks

Are you looking for a way to get fans more excited and into the games? Whether you're over a football, basketball, hockey, or baseball team, getting the fans enthused to be at the games is half the battle. If they have a great time, they will more likely come back for more games later in the season, which means higher ticket sales and food sales.
So what can you do to get fans more excited? One way is through fun noise makers, such as bang sticks. By handing out these fun, and safe, noisemakers to fans at games, they will have fun making noise every time the home teams scores points. These fan sticks really get the fans into the games and help to create memorable times for everyone in the stands.
But of course these boom sticks are not free, so how do you pay for them? Well, there are a few ideas. One is through the team's booster club. Since boosters often raise money for the team, the funds can be used for purchasing these sticks as long as you go through the proper channels.
Another option for getting these noise makers, or bambams, is through local businesses. Reach out to companies, especially ones located near the stadium, and see if they would be interested in paying for the boom boom sticks. In return, the company can have its name on the stick as well as the team's logo or name, so that everyone will know who purchased the sticks. It's great for the fans and it's a great way for the owners of the business to promote to local customers.
The last option is to sell the bangers or noise makers through the refreshment stands. Because these sticks are so economical, it's possible to sell them for cheap. As long as the price is reasonable, fans are sure to buy a banger to cheer on the team with, and the more people who buy them, the more fans who will want to have their own.
Having items like this will help create loyalty to the team because the fans are more invested in the game's outcome and feel a part of the team. Getting these noise makers for games is a great way to boost attendance and increase sales revenue.
More Popular Noise Makers From BuyThunderstix.com
Clapper Noisemaker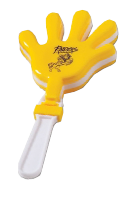 Clappers are loud and fun for everyone. Support your home team with their logo on the front and sponsor logo as the second side imprint.Price includes one color, one side imprint.

Cowbell Noisemakers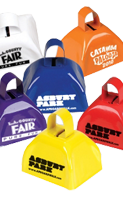 Cowbell Noisemakers are fun for any sporting event. Available in many bright color options. Price includes one color / one location imprint. Make noise at your next event.

Buy Thunderstix offers noisemakers at affordable prices. Our custom noisemakers are not only cheap, but they are one of the loudest noisemakers on the market.